By Cathy Anderson
Family caravan trips are the stuff of legends. It's precious time away from the pressures of home, and an eagerness to explore different places and have new adventures that you can treasure forever.
Scooping up the kids, hooking up the van and taking off for a weekend or during school holidays is a great way to see Australia and spend time as a family. But what about taking it to the next level, and absconding for months at a time?
Cue the inevitable questions and obstacles. How will you afford it? What on earth will you pack? How will the kids cope in such a small space? What about school?
We chatted with two families who took the challenge head on and loved every minute of their extended trips — through good times as well as the more challenging moments.
MEET THE HALSEYS
Todd and Kirryn Halsey have always been outdoor explorers. The high school sweethearts camped around their native Newcastle, NSW, and, since their sons Taj and Jai were born, have invested in a soft floor camper, a Jayco Expanda pop-top caravan and a semi-offroad 22ft Wonderland RV Adventus which they took on a four-month trip from April 2017.
The couple had talked about a bigger journey for some time.
"We would move camp spots and say, 'imagine if we could turn right here instead of left and just keep going and not go home'," says Todd.
Kirryn says it was a simple matter of timing that prompted them to go. The kids hadn't started school, Todd's sister had sold her home so was able to house-sit their house and the family dog and they were both able to take extended leave.
"Life just gets so crazy and it is really easy to forget about what is important," she says. "We find that when we were away we are all just happy. You just realise life is so short and it is where we make memories that last a lifetime."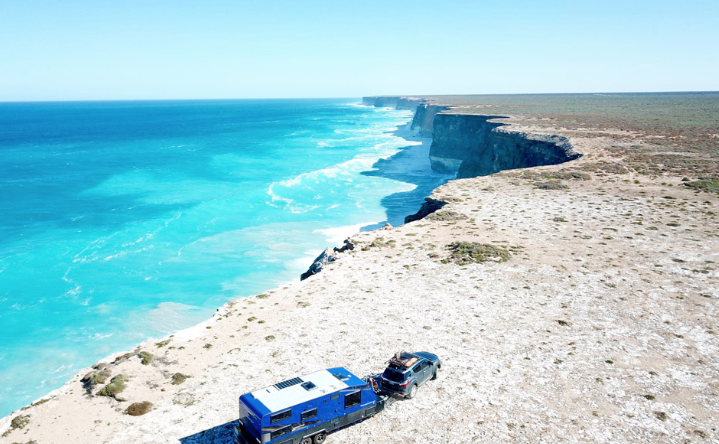 PREPARING TO GO
The family chose the Wonderland Adventus because of the build quality, layout and because Wonderland repositioned the aircon unit under the bed instead of on the roof so it would fit under the carport.
Their travel budget counted on a lot of free camping to save money, so they added a few off-grid modifications — 150W solar panels on the roof and a mobile 120W panel, gas heating, toolboxes, bike racks and instant hot water. They removed the oven and added a BBQ slide, and installed a power-friendly three-way fridge as well as a secondary Waeco fridge/freezer.
Their existing tow vehicle, an Izuzu MUX, was kitted out with new suspension, airbags, roof cages and dual battery systems.
"The semi-offroader took us to 95 per cent of the places we wanted to go," says Todd.
"Everyone said at some of the places we stayed said, 'you won't get that van in there, that's too big' but we honestly didn't have a drama."
SETTING THE ITINERARY
The family kept their plans pretty loose. Their 'hit list' included Uluru, Cape Tribulation and the Daintree Rainforest, Cable Beach and Broome, Karijini NP, El Questro Station and the Kimberleys. They ticked all the boxes, spending the majority of their time enjoying the warmer climes of WA, then circling back to NSW via Margaret River and then through Victoria.
"Because we love the beach, there is nothing over in NSW where you can put a big van on the sand and we have always wanted to camp on the beach in our van," says Kirryn.
"The first one was Warrah Station and it was amazing…"
The family also loved taking the boys to El Questro Station in the Kimberleys for the beautiful gorges, waterfalls and sunsets, and spending time at iconic Uluru.
"We lived on WikiCamps and Fuel Maps Australia apps," says Kirryn. "We would leave somewhere and roughly look at how many kays we wanted to do. We rarely booked in advance for accommodation and we rarely had an issue."
KIDS ON THE ROAD
Todd and Kirryn say the boys adapted really easily to life in the van. When the iPad ran out of juice after two weeks it was packed away, and the boys found other ways to amuse themselves — exploring, swimming and playing with the small number of toys they were allowed to bring.
"They had a $5 car each from Kmart, they had a bit of leftover tent rope and they dragged those cars all around Australia!" laughs Todd. "They were really happy with that."
The kids lived in their bathers during the hot weather and were happy for swims in lieu of a shower, or a two-second squirt while free camping to save water.
Todd and Kirryn invested in a DVD player in the Izuzu which they say was a lifesaver on extended drives — their longest was 1100km in one day leaving Uluru.
The family wanted to explore as much as they could, which meant testing their physical abilities to do gorge walks in WA, which required some climbing, and cycling around the base of Uluru. It did mean carrying Jai at times, but their oldest boy Taj relished the challenge.
"He did everything we did and did not complain once," says Kirryn. "If you ask him what he loves about caravanning he would say walking through the bush and exploring — he loved that stuff."
Taj also became something of an expert on winching out bogged 4WD vehicles. When the family came across a hapless driver who had become stuck out on a bush track, Taj hopped out and showed him how to lower his tyre pressures so Todd could help him out.
"He said to me, ''Dad, this bloke has no idea what he's doing!', recalls Todd.
SHOW ME THE BUDGET
The family budgeted $20,000 for their 26,500km trip which included fuel, food, camp fees plus ongoing costs from home. In the end they only spent $15,000, including just under $7000 for fuel.
"Everyone laughed when we told them that," says Todd. "But we didn't do anything silly. We knew we had the budget and we had to make it happen."
The family set a limit of $1100 per week. To save, they bought meat at wholesalers in major towns, stocked up on fresh fruit and veggies at supermarkets and local roadside stalls, minimised dining out and takeaway coffees and avoided visiting every tourist attraction with hefty entry fees.
"Because we love the outdoors we were really happy."
"We spent a lot of time in national parks and doing all the walks. Todd and I feel we definitely didn't miss out on anything," says Kirryn.
Free camping was a huge way for them to save — and this was most prominent in the west. The pair's advice to other families considering a trip like theirs is to just do it.
"There is never a right or wrong time —there will always be excuses for everything," says Kirryn.
"If we can get one family to do what we have done and experience what we have done, that to us is just awesome."
MEET THE HUNTERS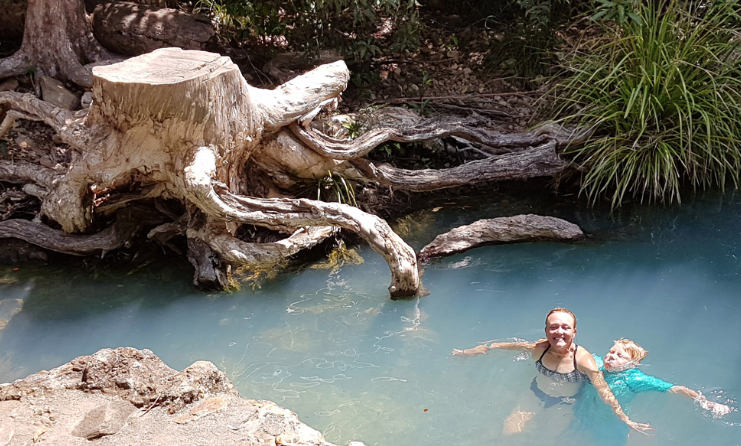 Jo and Evan Hunter had always dreamed of touring Australia in a caravan — but planned to do it once they retired and their youngest son Cooper had finished school.
Their four adult children had moved out of their seven-bedroom home and they were about to downsize. But when Evan was offered a redundancy package from BlueScope Steel in Wollongong, Jo found a buyer for her hairdressing salon and they took advantage of the property market boom to sell their home in Lake Heights on the south coast of NSW, buy their first ever caravan and tow vehicle and set off for an indefinite period.
The plan was to travel, stop and work to top up the bank account, then travel some more. They headed up the Queensland coast and had lots of 'holiday time' on Fraser, Magnetic and Bribie Islands, got work on a farm in Bald Hills, QLD, then in the sugar cane industry further north in Tully. They headed to South Australia with a stop in Clare Valley to work on a sheep station and then up to Yarri Station in the heart of WA's Pilbara. The family were in Perth for five months, but are now heading to Adelaide.
"I did a rough calculation of where we would be in 20 years if we had stayed and paid off our mortgage," says Evan.
"We would have retired with more $1 million in super, we would have had our house and another investment property, so we have made quite a large sacrifice monetary wise, but I don't really care. This is priceless."
UP, UP AND AWAY
The Hunters bought a secondhand 21ft 6in Nova Family Escape as their new home which they tow with a 2017 Ford Ranger. High on Jo's hit list was a separate toilet and shower and plenty of storage. There are bunks up one end for Cooper, and twin rear beds for Jo and Evan now converted into a king, with curtains.
They say downsizing from a large home to a van was easier than they thought. They sold cars, their boat, furniture and belongings at markets and packed pretty lightly (which was tough as apparently Evan is something of a hoarder), leaving minimal possessions in a storage container.
"We don't miss all that stuff," says Jo. "You actually realise how much 'junk' you gather. You don't need it. And especially not for the experiences we are having along the way and people we are meeting."
However, it did take the trio a bit of time to adjust to life on the road.
"The first six to eight weeks on the road being in such a confined environment was quite trying," says Jo. "Along the way we have learnt how to adjust and appreciate each other and care for each other a little more because we are in such a small space."
Evan has a slightly cheekier way of looking at things.
"You could say because we are in a small space it has brought us closer together…"
LIFE-CHANGING EXPERIENCES
By far the most amazing thing for the Hunters about their new lifestyle is the opportunity to experience country lifestyles, specifically living and working on major cattle and sheep stations.
Evan is a very handy guy and already had a vast skillset but he can now add station mechanic, musterer and road train driver to his resume.
Jo is also a pitch-in-and-get-your-hands-dirty kind of person and has fully embraced the opportunity to learn how to change truck tyres, shear sheep, cook daily lunches for 15 to 20 hungry cattle musterers and spend up to 10 hours on the road shopping in bulk at the nearest shopping centre hundreds of kilometres away.
Cooper says he has loved the farming experiences, and has learned how to take care of barnyard animals, milk cows and shear sheep, service a truck and even drive a tractor.
"I never really thought of the countryside when I was home," says Cooper. "I like everything about it. Mustering, crop work as well — a lot of that stuff."
SCHOOLED ON THE ROAD
Cooper has been home schooled by Jo through the Queanbeyan Distance Education Centre for 18 months. This has been one of the family's more interesting challenges.
"There were tears, tantrums … and that was just me!" says Jo. "It is hard for me to differentiate being a mother and trying to teach him as well. But we have worked it out pretty much."
When the family stops or long periods of time, specifically in the Clare Valley and in the Perth suburb of Carey Park, Cooper attends the local school. He says he has found it hard making new friends and then having to move on, but he is enjoying seeing new places and learning new things. His mum and dad are really excited that Cooper has been exposed to so many varied environments, and he now wants to be a farmer when he grows up.
"It is very different," says Cooper. "It has been frustrating having your mum teach you but it is better because you don't have to have a long school days as you normally do. And being out on the road is a lot of fun."

THE BANK BALANCE
Jo and Evan set aside a lump sum of $30,000 and budgeted around $1000 a week, which varies according to their location. They have a buffer with their house profits but are topping up with their work.
The next leg is a slow meander south to Adelaide for their daughter's wedding in March, and they plan to spend $600 a week. As for the future, it's not yet set.
"Initially we thought we'd be away 12 months and then when we started looking into it a bit more and started following a few families on Facebook who were doing the same thing, we realised 12 months wouldn't work," says Jo.
"Then we thought 2.5 years and that's because Cooper will start high school in 2020 and we might need to be based somewhere so he can attend. We will wait and see."