By Cathy Anderson
Two Aussie fashion entrepreneurs have pulled off a very clever — and successful — stunt to launch their shoe brand in wintry New York with three models in bikinis and just $500.
Jess and Stef Dadon, the sisters behind successful fashion blog How Two Live, wanted to expand their portfolio and launch a line of everyday-wear platform shoes — but they didn't have the cash for an expensive show. So they made their own by gate-crashing New York Fashion Week venues with three bikini-clad models in temperatures around -4C.
"From running a blog to running a startup we've always worked on pretty much no marketing budget," Stef Dadon told The Huffington Post Australia.
"The thing about having no budget is that you're forced to get creative, and the ideas you come up with are often better than if you actually had large amounts of money to work with."
The pair often attend international fashion weeks for their blog, and New York's timing in mid-February coincided perfectly with the first shipment of their self-funded summer platform shoe range, TWOOBS.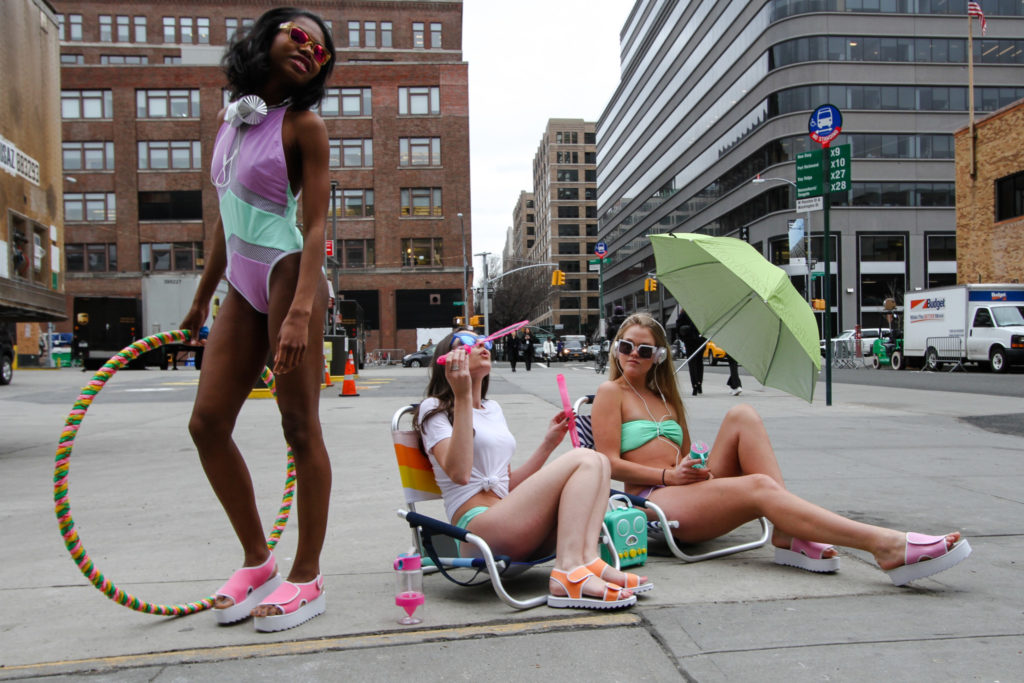 They hired three models for $100 each and a driver for the day and planned their own "shows" outside popular NYFW venues at Moynihan Station and Clarkson Square.
"We go to a lot of shows and we know how many photographers are waiting outside each venue and they sit around in between each show with nothing to do so we were like, we have to give them our own show," Steph said.
"At one point there were around 50 photographers — we were so excited that we'd happened to catch them between shows and they were all standing around with nothing to do until we came along," said Jess.
Despite the freezing weather, the bikini-clad models acted as though they were at a summer pool party, complete with deck chairs and inflatable pool toys.
"The shows only happen for about four to five minutes at a time because we didn't want the girls to freeze so we would just run them in and out of a car," Steph said.
"We had music blasting and they were amazing sports — they sat there like it was the middle of summer. You would never know from looking at them that it was the middle of winter."

And the crowd, as they say, went wild. Photographers snapped it up and passers-by stopped to take photos and post images to social media.
"We have all this video footage of me and Jess jumping up and down with excitement because everybody obviously crowded around and we had people coming up to us and asking us what the shoes were and saying 'wow, this is the best idea why doesn't everybody do this?' — it was just amazing," said Steph.
"Actually it was quite funny because in the days leading up to it it was between -16C and -20C degrees and then on the day of the campaign it was -4C so everyone was walking past laughing say 'oh, I don't feel that sorry for them, a few days ago it would have been much worse'," said Jess.
The girls were approached from a buyer at US department store chain Bloomingdales and they are still in touch with the company and a few other big retailers about doing exclusive TWOOBS collaborations. But for now the pair are selling TWOOBS exclusively on twoobs.com.
Sisters  show  younger  generation  #HowTwoLive
The leap to launching their own brand of fashion was not such a big one for the pair, who had always talked about opening their own store.
"We always joke about how when we were younger we talked about having the Dadon House which was a store that the two of us ran, so I think it was always something that we had in mind," said Jess.
Both sisters have always had a passion for the industry — Jess studied fashion and textile merchandising at RMIT and Steph studied professional communications but also ran a market for up and coming designers called the Up and Comers Fashion Market.
"Our aim is to inspire people to be themselves and to embrace the weird and to not feel left out if they are not dressing like everybody else around them."
They created their blog four years ago when Steph moved to Paris for six months just to post a daily outfit. It's colourful and fun — and the pair often post photos of themselves in vibrant outfits.
"Our aim is to inspire people to be themselves and to embrace the weird and to not feel left out if they are not dressing like everybody else around them so a lot of the time we are colourful and bright and out there," Steph said.
It took off very quickly, and soon the pair's social media blossomed as well.
"We got in just before that big blogger boom in Australia so it was kind of this really lucky timing and we had no intention of turning it into a business at the time, it was just something that people really enjoyed reading and it just took off from there," Stef said.
"And then Instagram started to get big just after we launched and we jumped on that at the right time so Instagram was a really big help for us to get the blog out there as well."
The sisters have since collaborated with fashion brands such as Windsor Smith footwear to design new ranges and a big part of their business model is working with brands on collaborations to target the younger audience that follows How Two Live, as well as consulting on social media strategy and content creation.
They released a book, #HowTwoLive, based on their colourful blog, and the shoe range is another string to their ever-increasing bow.
"I think the Windsor Smith collaboration was the first time that we had designed shoes and we went on to do another collaboration with Buffalo, who did that Spice Girl crazy platforms and with Print All Over Me, which is a New York-based website where people can go on and design their own prints," said Steph.
"So we got a bit of a taste for footwear and we've become known for our crazy platforms that we wear on How Two Live and so that was what inspired the footwear."
The TWOOBS shoes — which are delivered in PVC tubes and not shoeboxes as a point of difference — are lightweight, waterproof platforms with velcro straps which, remarkably, were inspired by children's footwear.
The pair's success mirror other Aussie fashion labels that have worked hard to grow from humble beginnings to huge success stories.
Aussie fashion company Black Milk started as a small startup in a kitchen in Brisbane and spends virtually zero dollars on a marketing budget, relying instead on its army of followers on Instagram and Facebook to transform it into a six-figure business.
An Aussie jewellery designer Samantha Wills has also come a long way from selling jewellery at a market in Sydney's Bondi Beach as a hobby to now being a global brand. The New-York-based designer is now coveted by A-listers such as Kate Bosworth, Rihanna, Jennifer Lopez and Taylor Swift and has had her designs designs appear on Sex & The City.
And Jess and Steph will soon add in another facet to their business model — they want to be help support the young women who make up the majority of their market and build their self-confidence and life skills.
"Another element of the shoe line is that we also support female health and wellbeing," Steph said. "That's something that's really important to us.
"We are constantly working with various charities through How Two Live and we wouldn't have even considered creating a product line without some sort of socially conscious element."
The pair say they will be partnering with different organisations, the details of which will be revealed on their website.
This article first appeared in the Small Business section of The Huffington Post Australia