By Andrea Beattie
Aussies have long flocked to Los Angeles for its sunshine, celebrity spotting and movie magic.
With airfare specials and accommodation deals to the City of Angels a regular feature in our news feeds these days, it's always the perfect time to plan a visit.
While the countless tours offered in and around Hollywood can be a great option for first-time visitors or those who want a general LA overview, there's so much more to discover. Most include celebrity "highlights" such as the El Pollo Loco where Brad Pitt danced in a chicken costume to attract customers, the exact spot outside the Viper Room where Phoenix died and the street where Divine Brown tempted that naughty Hugh Grant. Film location tours drive past the Rodeo Drive store that made a "big mistake" by not serving Julia Roberts in Pretty Woman, as well as sights from Die Hard, Bridesmaids, Blade Runner and more.
But what if you're a passionate moviegoer or TV show fan who's been there, done that and want a tour that takes you to absolutely every Tarantino film location in LA or pay homage to Marilyn, Tom Cruise or Zac Efron? The best way to see all the LA sites from your favourite films and TV shows is to plan a self-guided driving pop culture tour.
All you need is to hire a car, a GPS and do a little research and preparation before you land at LAX.
WHERE TO START
First, make a list of your favourite movies and TV shows, and check to see which ones were made in LA and its sprawling surrounds.
Hundreds of TV show episodes and films are produced in Los Angeles every year, so chances are you'll be able to visit some of your faves.
Sites such as Movie.Maps.org and even Wikipedia are a good place to start your research.
And don't worry if your film or TV tastes tend to be on the nostalgic side — hundreds of locations still exist within the LA city limits, and most haven't changed that much.
For example, Tarantino fans can still order a cup of joe and a slice of pie at Pat and Lorraine's Coffee Shop on Eagle Rock Boulevard seen in the opening scene of Reservoir Dogs, visit the Two Pines Chapel where The Bride faced off with the Deadly Viper Assassination Squad in Kill Bill or even stay at the Safari Inn that featured True Romance, as well as in Apollo 13, Coach Carter and TV shows Desperate Housewives and Prison Break. Fans of cult TV shows and movies can see the original buildings that featured in Buffy: The Vampire Slayer's house and high school, the Fisher and Sons funeral home from Six Feet Under, Grease's Rydell High School or the Halliwell sisters' house from Charmed, which just happens to be on the same street as the house that featured in the music video for Michael Jackson's iconic Thriller. Remember though, some of the locations shown on screen were, and still are, private property, so don't linger too long and never invade the occupants' privacy by knocking on their door.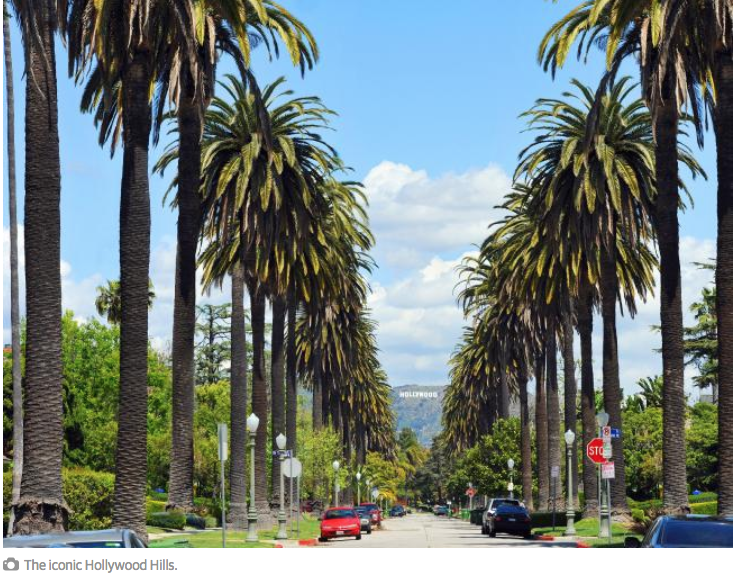 HOW TO FIND THE LOCATIONS
The best resources to plan your DIY tour are locations websites, Movie-locations.com and Seeing-stars.com.
Movie-locations.com is a worldwide database of filming locations which allows you to search by city, town, film or by actor or director. It gives street addresses for thousands of locations and has useful tips and in some cases, recent photos so you know you're in the right place.
Seeing-stars.com categorises films by decade from the 1930s to 2000s, so it's a whole lot easier to find what you're looking for if you're a fan of a certain decade of filmmaking. It also lists films by title and director and has a separate section for TV shows.
Another handy site is iamnotastalker.com, a blog by Hollywood fangirl Lindsay Blake. With a slight bent towards TV, she has location information about shows including Pretty Little Liars, Charmed, Glee and The Hills as well as some useful tips for getting around the city.
MAP IT OUT
The best way to keep track of all the locations you want to visit is to use Google Maps to create your own tour map. This is a great way to see which locations are in similar areas so you can plan your route rather than driving further than you need to.
Some locations will have changed since they appeared on the screen, so Google Maps' street view function can be a really handy tool too. If you take your own GPS, download US maps and spend a few hours entering the addresses of the locations you want to visit. That way, as soon as you pick up your rental car you'll be ready to hit the ground running. If you're hiring a GPS or satnav as part of a car rental package, make sure it's been updated recently.
If your favourite show is currently filming in LA, there's a chance you can grab tickets to be in the audience. Tvtickets.com and tvtix.com are good sites to try. Most tapings are free, but you will need to book in advance. You'll be in the studio for the duration of taping, so don't plan anything else that day. Also check onlocationvacations.com which has a daily list of what's filming where, when and the stars involved.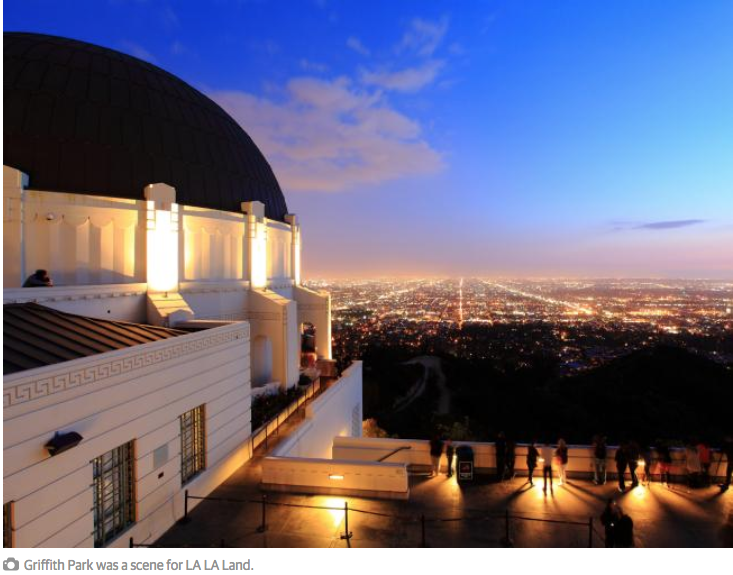 SEEING STARS
Hollywood has always been the spiritual home of the movie industry, and some of LA's most famous sights such as Santa Monica Pier, Venice Beach, Sunset Boulevard, Malibu and the iconic Hollywood sign have all made countless appearances in films and TV. It's also home to some of the busiest active movie studios in the world, and you can go behind the scenes at Universal Studios, Warner Bros, Sony Pictures and Paramount Pictures to get a taste of movie magic up close — and maybe even spot a star on the lot.
Original article appeared in the Escape section of the Herald Sun on October 25, 2017