By Cathy Anderson
My happy place is the seaside, whereas my partner prefers cooler, mountainous regions. Luckily, we also have shared interests such as national parks, wildlife spotting, sightseeing and great food.
Sri Lanka, off India's south-east coast, has resplendent beaches, breathtaking mountain vistas, arid landscapes and abundant national parks. Here you can surf, hike, raft, snorkel, trek or simply chill – and sample some of the world's best spiced foods and its finest tea.
The country is shedding its war-torn image – it spent 26 years in civil war with Tamil militants – and word about its undeniable appeal is spreading. Tourism revenue surged eightfold to almost $US3 billion after the conflict ended in May 2009.
It's still inexpensive to travel here, too. And you'd be hard pressed to find a destination with friendlier people, more natural beauty and the exotic appeal of being a regular stopover on ancient spice and trade routes.
Our two-week trip was a relaxed loop of the south-west from bustling capital Colombo, down the coast by train to the laidback beachside town of Mirissa, exploring Yala National Park before heading north toward tea country in the cool highland enclave of Nuwara Eliya.
Stay with locals
Accommodation options in Sri Lanka are as diverse as its landscapes, but when you choose home stays, you'll be warmly invited into a family group. In Mirissa we stayed at Morning Star, with the hospitable Anura and his wife, children and mother. Aside from sharing their stories, giving travel advice and cheerfully explaining local customs, cooking is a strong point for Sri Lankans and everything we ate was delicious.
In Yala National Park we stayed at a three-storey treehouse at Saraii Village, a 30-kilometre drive from the reserve entrance. There's something magical about open-air sleeping quarters, listening to the sounds of the jungle – until you're woken by nosy night creatures eating your biscuit stash, or a farmer firing 3am warning shots to keep nomadic elephants out of his vegie patch.
For a historical experience head to Nuwara Eliya, mountainous tea country and the heart of Sri Lanka's British colonial history. The prestigious Hill Club was founded in 1876 as a private gentlemen's club and you can imagine how the colonial plantation owners would have kicked back with a cigar in the library, taken tea in the expansive cottage gardens and dressed formally for dinner – all of which guests can do today.

Glorious food
Rice with curry is a staple and varies greatly. It is generally scooped using naan, pappadums or fingers.
Our first experience eating like this was at a crowded vegetarian buffet cafe called Sri Ambaal in Nuwara Eliya. No one spoke English and we must have looked quite forlorn until the attentive staff rushed over to show us the scoop-and-eat method. Local cafe fare is inexpensive – around $2 per person.  Be sure to sample breakfast hoppers; delicious, crispy bowl-shaped pancakes made from fermented rice flour and coconut milk.
Travel options
Sri Lanka offers a wide range of mostly inexpensive transport options including some iconic train journeys – for as little as $2 for a 150-kilometre journey.
A train ride through the tea country around Nuwara Eliya and Ella and the five-hour trip from Colombo's Fort station to Matara right along the coastline are absolute must-dos.
Local trains are colourful, old, busy and almost all carriages are unreserved. You may have to stand up, or sit in doorways beside giggling local children, but you won't go hungry – enterprising locals sell fresh mandarins, fried prawns and sweet doughnuts at each station.
Buses are also cheap but they are fast, furious, and a little terrifying. Hiring your own transport is uncommon – roads are narrow, busy and full of potholes. A private driver, arranged through locals or online, will cost around $70 for a five-hour, 150-kilometre journey. Drivers are friendly, knowledgeable and reliable.
Something wild
From November to May, the southern coast of Sri Lanka is home to the magnificent blue whale. We were thrilled to see two of these shy giants aboard a day trip with local tour operators, Raja & the Whales, an outfit well regarded for keeping respectful distances.
Sri Lanka boasts 26 national parks that cover almost 5750 square kilometres, with eight UNESCO World Heritage-listed areas and an abundance of exotic wildlife – leopards, elephants, jackals, sloth bears and 400 bird species.
The southern Yala National Park is a great spot for sunrise and sunset tours. Scores of jeeps ramble through bone-jarring dirt tracks and once a herd of elephants or an elusive leopard or sloth is sighted, it can become a bit of a circus as drivers race to give their occupants the perfect photo opportunity.
At the end of our morning of wildlife spotting, and for an extra $4 cost, our guide, Janka, laid out a spread of rice and curry dishes with chicken, green beans, dhal and pappadums, cooked by his mother.
Elephant haven
Sadly not all elephants in Sri Lanka live in national parks. Many are ill-treated and used to lug tourists and timber. But attitudes are changing. The Elephant Freedom Project, based in Kegalle, is a sanctuary for rescued elephants, where tourists like us pay to volunteer for one day or up to three weeks. We spent quite some time with the elephants, walking with them, feeding them and bathing them in the nearby Kuda Oya River.
It's a once-in-a-lifetime experience, and you'll stay in the home of a Sri Lankan family getting to know the three generations that live there. Matriarch Mali might show you how to make traditional coconut milk, before teaching you to create a mouth-watering green bean and eggplant curry using home-grown chillies, turmeric and coconuts.
One afternoon we took a bus into nearby Rambukkana to help local school students – boys and girls aged 12 to 21 – with their English. They peppered us with questions – our names, if we were married and who our president was – and told us about their aspirations to become teachers, businesswomen and engineers.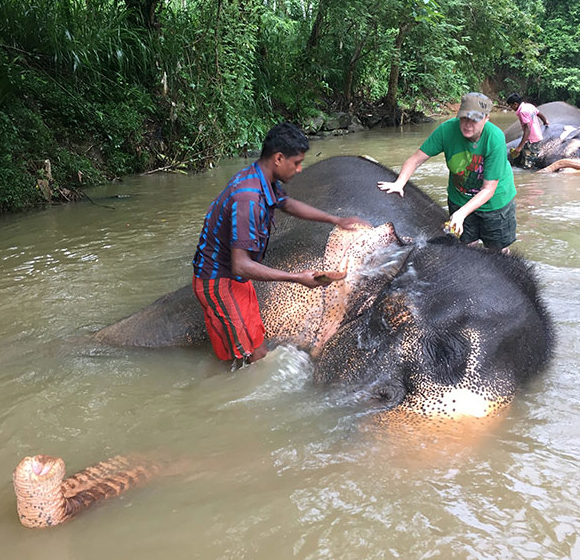 Taking tea
Some of the world's finest tea houses and plantations are located in Nuwara Eliya, Ella and Kandy.
Mackwoods Labookellie Tea Centre is one of the biggest (you can't miss its Hollywood-style sign), but for a more authentic experience, head to Pedro Tea Factory which has been operating since 1885. Local workers guide visitors through the factory and its various stages of tea production before tasting some of the finest, most aromatic brews in the world.
From Nuwara Eliya, take a day hike through the grassy wilds of Horton Plains National Park to the lofty heights of World's End, a dramatic 880-metre escarpment that dips dramatically into the valley below.
Two weeks in Sri Lanka offers travellers with different interests a destination that won't disappoint. The sights, smells and beauty of this magical country will stay with you long after you've left its golden shores, lush jungles and tea-spotted highlands.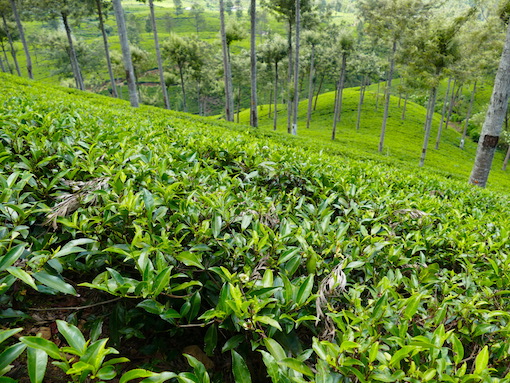 Fast facts
How to get there (from Melbourne):  SriLankan Airlines flies direct from Melbourne to Colombo (11 hours). Airlines including Emirates, Qantas, Thai and Cathay Pacific make the journey via Asia.
Languages: Sinhalese and Tamil
When to go: High season is December to March. Wildlife spotting in the southern national parks is best from May to September. Blue whale spotting is from November to May.
Essential travel tip: Mix it up with travel modes and accommodation to experience Sri Lanka's diversity.
Must-do experience: Day tours from Mirissa to sight majestic blue whales.