By Andrea Beattie
Sometimes an idea is so big, it's impossible to get it off the ground.
And even with his philanthropic aims, Daniel Flynn knew if he was really going to make a difference, he had to start small — and not give up.
The co-founder of Australian social enterprise startup Thankyou had a vision to change the world by bringing safe and clean water to those in need.
But while most companies were sympathetic to the cause, he and co-founders Justine Flynn and Jarryd Burns just couldn't get anyone to commit money or resources.
"When you have an idea and you think it's a great idea, and you tell other people that idea and they agree with you — but what we didn't realise at the time, is that people won't back anything that doesn't have momentum," Flynn told The Huffington Post Australia.
"Until that happens, that's all it is — an idea. It wasn't until we got a factory, and a packaging company gave us a small donation, that we started to build that momentum.
"The more momentum the organisation builds, the more people want to help."
CONSUMER POWER
Now in its seventh year, Thankyou has given in excess of $2.5 million to fund projects in developing countries.
It's given safe access to clean water to more than 150,000 people, funded hygiene and sanitation projects for more than 190,000 people and provided 12.1 million days worth of food aid to people in need.
Closer to home, Thankyou also funds The Salvation Army's Hamodava Cafe in Melbourne's CBD which provides the city's homeless and disadvantaged with breakfast and lunch.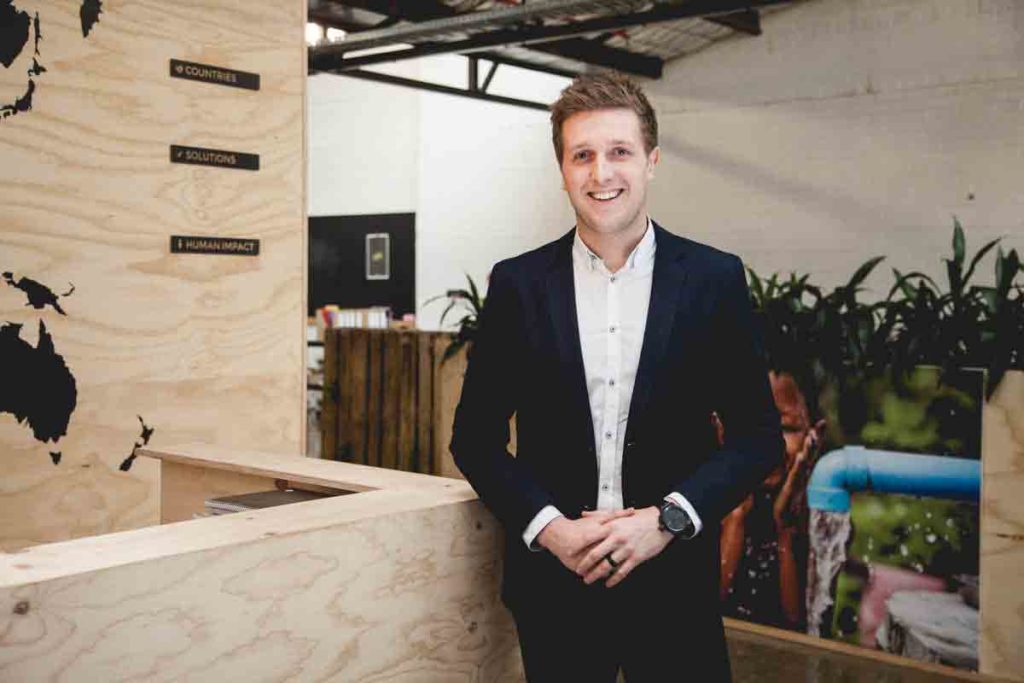 Thankyou remains true to Flynn's original vision when he founded the company at just 19.
"It came from a moment when I was looking at global poverty and in particular, the world water crisis," he said.
"These were massive, epic and overwhelming problems and came with some really, really sad stories — kids dying every day, and losing family members from waterborne disease. At that time, 900 million people didn't have access to clean water.
"I often feel a little overwhelmed and think 'Oh, man our world is messed up and what difference could I really make?' And sure, it's not the most positive view, but I think sometimes that some problems are just so big that it just seems impossible to see a solution. Yet we all participate in things like buying bottled water — in Australia we spend $600 million on bottled water every year. Globally, we're spending $100 billion."
Flynn said on average, it costs $20 to give a person access to safe drinking water.
"If you've got $100 billion, and there's only 680 million people without access to water, you could well and truly give people access to clean water multiple times over.
"What people don't realise is that together, we're so much more powerful as consumers than we realise.
"Thankyou is a really simple idea of turning that consumer power on and changing the world in the process.
"Let's take these purchase moments — and the money we're already spending with some of the world's biggest multinationals and turn that into giving clean water to people who need it.
"And then we thought, well, if it works with water, could we do it with food? Could we do it with bodycare?
"So now we're funding water and food programs as well as health and sanitation programs."
SEE ROADBLOCKS AS STEPPING STONES
Like any startup, Thankyou made a few mistakes along the way.
"Now we're building towards the future and we've got momentum from the past which helps open the doors quicker and get funding quicker," Flynn said.
"But we did go out a little too hard. Our pitch to Metro Beverage Company (the largest beverage distributor in the country) was that we had a great cause, we're passionate, this is going to change the world, like most good startup pitches; 'we're going to be huge'!
"We had a factory, so we got them on board. They said 'we'll make the product, you sell it and pay the cost of the goods when you can. It wasn't a huge risk for them.
"When we got (packaging company) VISY on board, we asked for a ridiculous number, like 'can we have 10 million bottles a year for free?'!
"We totally overshot it, we were so amateur, and we were so excited. We got 30,000 as a one-off donation instead. They said, 'Yeah, cool idea, but we can't give you 10 million."
GIVE POWER TO THE PEOPLE
Flynn said using social media played a massive role in Thankyou's success.
"Apart from funding and resources, one of our biggest problems was actually getting big retailers to stock our product," he said.
"We tried for 3 years and everyone said 'good cause, good concept, nice product but you're in the wrong market — you're against brands that are investing $3-5 million on a product launch and you don't have that'."
So Flynn set up a meeting with 7/11 and in the two weeks before the meeting, ran a social media campaign asking consumers if they'd buy the product if 7/11 stocked it.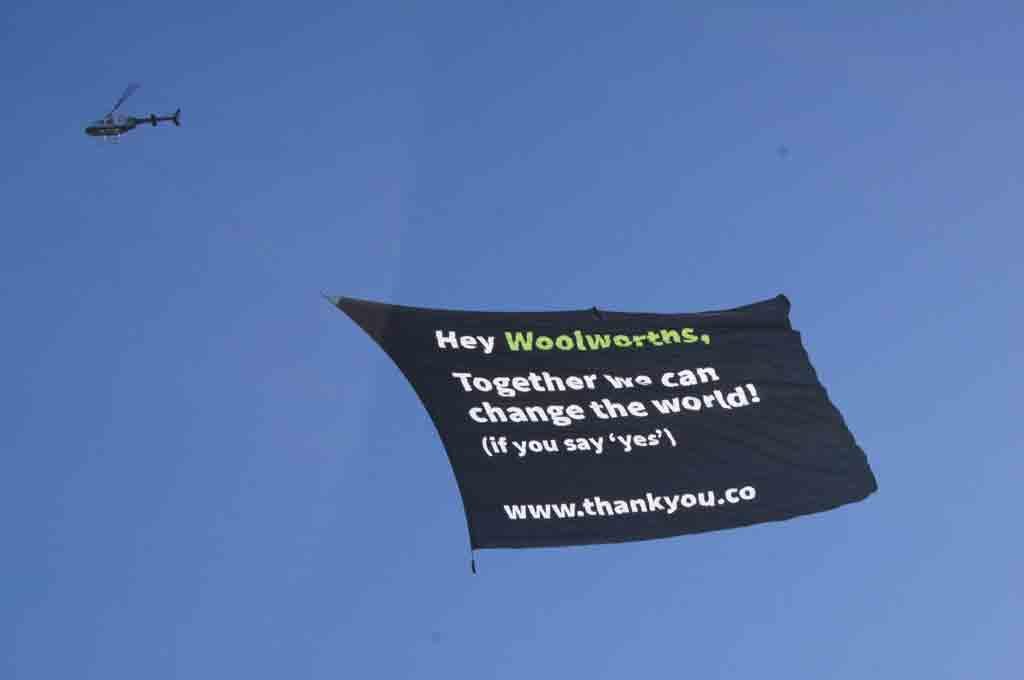 Within one day, 7/11's social channels were flooded with support for Thankyou and within a few weeks, the water was available in 7/11s around the country.
Riding on the momentum, Thankyou launched their biggest social media campaign to date to try and get their bottled water, and their new range of muesli and muesli clusters and bars as well as body care products including washes, lotions and creams, sanitisers and soaps onto the shelves in Coles and Woolworths.
To kick it off, they made a six-minute video and posted it on YouTube which got 80,000 views in two weeks, and hired two helicopters to fly around the headquarters of Coles and Woolworths flying banners that read: "Dear Coles/Woolworths: Thankyou for changing the world (if you say yes).
Soon after, both chains agreed to stock Thankyou's entire range.
"Social for us, we use it to reach our consumers to pull the product through the retailers," Flynn said.
"Sometimes people back boldness, not always, but sometimes. And we did go bold with that campaign because we believed in it and we needed them to see how big this was.
"And yes, the Coles and Woolworth's campaign were big, and they did have helicopters but it did send the message that this is a bigger idea that you guys probably realise."
PRODUCTS HAVE TO STAND UP
Flynn said it was one thing to get the range into supermarkets but another to get people to buy it.
"There are some stats that show that 82 percent of consumers will prefer a brand that's related to a cause," he said.
"But the truth is that the product itself has to be good. If it's for a good cause I think we'll all buy a product once, tick a box that says we're helping a cause, and then we'll go back to what we need or want or love.
"We try to let people know that by buying it, they're changing the world — after all the costs involved, every cent left goes to fund our programs.
"No directors of founders get any shares or profit and there are no investors — this is all for cause.
"But we need to make sure the products can stand up on their own."
Consumers can track the impact of their purchase through Thankyou's custom built tracking system.
Each product has an ID code, which can be entered into the Thankyou website to access information about projects being funded by the purchase.

GIVE BACK TO YOUR STAFF
Teamwork has been crucial to Thankyou's success.
"You've got to get a good team around the startup — whether it's founders like us, with me, and Jarryd and Justine — or whether it's a great mentor, you need good people around you.
"If you try to walk it alone, it's such a lonely journey and it's so hard."
Flynn said one of the biggest lessons he's learned in business came from a meeting with investment banker and Australian of the Year, Simon McKeon.
"He asked me 'Do you celebrate the wins?' And I said, 'Yeah, of course we do!' And he asked me when and how we celebrated.
"And then I realised we didn't really celebrate. After we got 7/11 on board, when they said yes, we said 'Great, now we've got to get cracking and get product into the store'.
"And then we thought, OK now we have to outsell someone or we're not going to last. Then we outsold someone, and then we were like 'OK, now we have to get more retails' … and it went on and on without really celebrating those wins.
"When you're pioneering or building something, you're always looking to the future but you have to stop and celebrate those successes. We're 7 years in, life goes on and you miss that chance to enjoy the process."
Flynn said he now regularly celebrates success with the Thankyou staff.
"They all work so hard, so now we have this thing on a Friday afternoon at 4.30pm, we all stand around in a circle and we just say thankyou to other team members in the organisation.
"Thankyou for something we saw them do — sometimes it's just a thankyou to someone who emptied your bin, or got you a coffee or answered your phone.
"It sounds a bit weird explaining it, but it's the most awesome meeting. Everyone feels appreciated and valued and that's so important."
This article first appeared in the Small Business section of The Huffington Post Australia